"Timmy"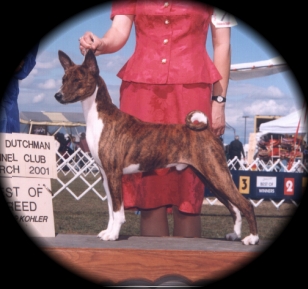 BIS, BISS Dual Ch Jasiri-Sukari The Illustrated Man SC, LCX
(BIF Dual Ch Jasiri-Sukari Juri Seinfeld MC x Ch Jasiri-Sukari Taboo)
12-17-99- 09-19-11
At just 7 months old, Timmy had already exceeded our expectations.
On his 6 month birthday, he was Best of Breed over 5 specials for a major.
Two weeks later, in his second show he was Winners Dog and Best of Winners
at the Basenji Club of Southern Calif Specialty under breeder-judge Ann Harrison.
Two weeks later, Best of Breed from the classes again, under Mrs Patricia Trotter.
His first show as a 7 month old, he was Best of Winners under Mrs Ann Rogers Clark for his 3rd major.

Timmy finished his Chamionship at 8 months old - in just 8 shows.

He won his first group at 11 months old and has was ranked amoungst the top Basenjis in all of 2001.

He finished 2002 as the #3 Basenji in the United States completely Breeder-Owner handled.

Timmy finished his Field Championship in March of 2002. He completed the title in just 6 runs.

Timmy spent 2003 in the East with Michael Work & Stacy Snyder.
He won two All Breed BEST IN SHOWs and finished 2004 as the # 1 Basenji in the Country.

He won three more BEST IN SHOWs in 2004 bringing his total to 5.
This makes Timmy our top winning Basenji.
This would not have been possible without the generosity of Katherine Toohey (SlamDunk) for which we sincerely thank her.

In May of 2006, Timmy earned his Lure Courser Excellent (LCX) title.
Timmyis only the 4th Basenji to earn an LCX and he is the first Best In Show winning Basenji to earn this title.

On September 06, 2011 Timmy was diagnosed with end-stage lymphoma.
We lost him less then 2 weeks later...

| | |
| --- | --- |
| | |
| Self-stacked | and moving at 7 months old |
CLICK HERE TO SEE MORE PHOTOS OF TIMMY


---

Timmy is CHIC certified with AKC and the OFA (#21007)
Timmy's Hips were OFA Good
He CERF'd with clear eyes in 2006
He was DNA tested Clear of Hemolytic Anemia
His thyroid tested Normal
Timmy tested as Probably Affected with Fanconi on the Linked Marker Test
At the time of his death he had no signs or symptoms of Fanconi.

VIEW TIMMY'S OFA TEST RESULTS PAGE

---
| | |
| --- | --- |
| | Ch Sukari's Spot The Target CD |
| | |
| --- | --- |
| | Ch Pendragon Sugarbabe of Kazor CDX, Fch |
| | |
| --- | --- |
| | mBIF Dual Ch Jasiri-Sukari Juri Seinfeld MC |
| | |
| --- | --- |
| | Dual Ch Sukari's Steven Spielbark CD, MC |
| | |
| --- | --- |
| | BIS, BISS Dual Ch Jasiri's Jurassic Bark MC |
| | |
| --- | --- |
| | Ch Jasiri's General Delivery |
| | |
| --- | --- |
| mBIS, mBISS Dual Ch Jasiri-Sukari The Illustrated Man SC, LCX | |
| | |
| --- | --- |
| | Ch Sukari's Spot The Target CD |
| | |
| --- | --- |
| | Ch Pendragon Sugarbabe of Kazor CDX, Fch |
| | |
| --- | --- |
| | Ch Ebonwind Justly O'Fantasia |
| | |
| --- | --- |
| | Ch Jasiri-Sukari First In Lines CD |
| | |
| --- | --- |
| | Ch Jasiri-Sukari Jess Be-Kaus JC |